Behind the Scenes
Producer, Director, Cinematographer, Editor: Briar March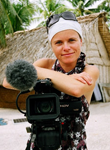 Briar is a documentary filmmaker and Fulbright scholar. Her films have been broadcast on major television networks, released in commercial cinemas, and regularly exhibited in international film festivals. She has received over 30 international awards for her directing, producing, editing, and cinematography. Her filmography includes two feature length documentaries, There Once Was an Island: Te Henua e Nnoho (2010), and Allie Eagle and Me (2004), and four shorts: Smoke Songs (2011), Michael & His Dragon (2010), Sick Wid It (2010), and Promenade (2011). Briar has an MFA from Stanford University and a BFA from the University of Auckland.
Producer: Lyn Collie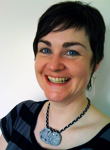 Lyn Collie is producer at and co-director of the boutique production company On the Level Production, at which she produced multi-award-winning feature documentary There Once Was an Island. Under her charge this film has screened at more than 120 festivals, sold into every major broadcast territory and enjoyed a highly successful self-release into the educational DVD and VOD market worldwide.   Since completing There Once was an Island, Lyn has collaborated with filmmakers and producers from Canada to Ecuador.  She also mentors emerging New Zealand documentary makers.  As Digital Media Producer at The University of Auckland Business School she holds overall responsibility for video production, with additional responsibilities in the introduction of new media and teaching technologies across the entire faculty. She was previously a film tutor and production coordinator in the department of Film Television and Media Studies, and produced, directed, and edited Cruise Control, a 2005 documentary on "boy-racer" culture.  Lyn has an MA (Hons) from The University of Auckland and a BA (Hons) from Otago University.
Sound Recordist and Technical Advisor: Jeffrey Holdaway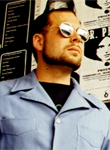 Jeffrey Holdaway has worked with sound and moving image for over thirteen years. His work includes location recording, mixing and sound design for documentary, feature and short film. He has directed music video, dance films, made several works for CD, and designed sculptural sound installation for several leading NZ artists. He has also taught workshops in recording and video production as technician at the Elam School of Fine Arts and the School of Music, University of Auckland. Jeffrey is based in Auckland, New Zealand and has a Masters in Sound Design and a Bachelors Degree in Visual Arts.
Editor: Prisca Bouchet
Recently turned freelance, Prisca Bouchet worked until as an editor for Eyeworks in Auckland until 2009. She has also worked as a freelance editor and camera operator in both France and New Zealand and has shot documentary in China. In 2004 Prisca completed the first year of a masters in documentary filmmaking as part of a postgraduate exchange between The University of Auckland and the Université Lumière Lyon 2. She has a degree in media studies and is passionate about documentary as an artform that allows social commentary.
Composers: Tom Fox & Marshall Smith
Tom Fox & Marshall Smith of The Sound Room write & produce music for documentary, film, artists, advertising, games and other emerging media. The Sound Room has composed and produced music for documentaries for the BBC, Animal Planet, BSkyB, Channel 10 (Australia), TVNZ, TV3 and SABC (South Africa) amongst others. Their tracks have been featured in the USA, UK and Europe on channels like MTV, Nickelodeon, VH-1, Discovery and Fox. They have composed music for advertising, games, ringtones and animation for high profile international clients and regularly write and produce music for artists and bands. Tom has been part of a number of chart-topping songs. His song Weeping was recently recorded by multi-platinum selling artist Josh Groban and produced by Glen Ballard. The album went to #1 on the US charts. Marshall has won a number of international songwriting awards along with being a finalist for song of the year in the APRA Silver Scrolls.
Composer: Mark Smythe

Mark Smythe initially studied composition with Jack Body at the Victoria University School of Music, now the New Zealand School of Music. He now composes for a diverse range of clients and is a songwriter/producer for the electro-acoustic band Mute. In 2004 he commuted regularly to Sydney for a series of screen composition courses at the Australian Film, Television & Radio School (AFTRS), which ignited his passion for film music. He was accepted into the inaugural Graduate Diploma in Screen Composition at AFTRS Melbourne, graduating in December 2008. In September 2008 Mark received a Film Victoria Grant to fund a mentorship with renowned screen composer Burkhard Dallwitz (The Truman Show, Underbelly). The mentorship took place during Burkhard's work on the German feature The Interrogation of Harry Wind and season two of the seminal Australian TV series Underbelly. Culminating in a review of his own work in March 2009, the experience equipped Mark with a wealth of creative, technical and screen industry insights.
Co-Producer: Kelly Anderson

Kelly Anderson is an award-winning American independent producer and director of documentary and narrative films/videos. She has been a key creative on the documentaries Every Mother's Son, Overcoming the Odds and Making a Killing. Kelly has also made additional documentaries and narrative films which have screened on PBS, at the Sundance Film Festival and on HBO. She is the recipient of fellowships from the Rockefeller Foundation, the American Film Institute (NEA), and the New York State Council on the Arts and has received production grants from ITVS and the Paul Robeson Fund for Independent Media. Kelly has a Bachelor of Arts in Modern Culture from Brown and is an assistant Professor at Hunter College, New York.
Co-Producer: Mark Foster
Mark Foster has been working in the film industry for 15 years. He founded, co-owns and runs successful film production company Robbers Dog, working as a producer on television commercials for many international brands, on music videos, on award-winning independent shorts and, more recently feature films. In 2001 he produced the short Beautiful with Adam Stevens (Director) which went on to screen at Montreal, Melbourne and New York & was in competition at Sundance & Toronto Film Festivals. In 2003 Beautiful won Best Short Film at the New Zealand Film Awards. Mark produced Delores in 2002, which went into competition at Berlin. In 2007 he produced his first feature – A Song of Good. This screened at Rotterdam, Melbourne & the New Zealand International Film Festival. A Song of Good also picked up Best Feature Film at the 2008 Qantas Media Awards.
Executive Producer: Annie Goldson
Annie Goldson has been producing and directing award-winning documentaries for 20 years. Her best-known titles include Punitive Damage, and Georgie Girl. Both titles have screened widely and garnered major awards in film festivals. Annie has also completed Sheilas: 28 Years On, Pacific Solution: From Afghanistan to Aotearoa and Elgar's Enigma: Biography of a Concerto. Her most recently completed title is An Island Calling, on the murder of a gay couple in Fiji in 2001. She is currently in postproduction on a new film Brother Number One, which follows Olympic rower Rob Hamill whose brother Kerry was murdered by the Khmer Rouge regime in Cambodia in 1978. Annie received her PhD in Film and Television Studies from the University of Auckland and is currently Associate Professor in this department. She has published articles and books, and has been the director of the biannual New Zealand International Documentary Conference. She is the current president of the Screen Director's Guild of New Zealand and a DOCNZ trustee. In 2007, she received the Order of Merit (ONZM) from the New Zealand Government for her services to film.
Associate Producer: Zane Holmes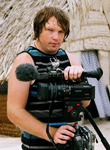 Zane Holmes, Director of Photography during early production, has shot, produced and directed both documentary and drama in New Zealand for the BBC, Nickelodeon and Ragdoll productions (UK) amongst others. In 2002 an episode of New Zealand programme Being Eve that he co-produced and edited received an Emmy nomination for best international children's show. ane has also worked in the film and television industry as an editor and post-production whiz-kid for the last 11 years.

Oceanographer: John Hunter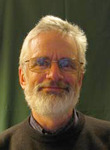 John Hunter works as an oceanographer at the Antarctic Climate & Ecosystems Cooperative Research Centre, which is based in the University of Tasmania. His current interests are the sea level rise induced by climate change, and the response of Antarctic Ice Shelves to global warming. Recent work has involved investigations of sea level rise in Australia, the U.S., and in the Indian Ocean and Pacific regions, and the way in which this rise increases the frequency of extreme sea level events. He has recently completed estimates of future high sea level extremes for Tasmania, by combining the present exceedance statistics with projections of the (uncertain) sea level rise for the 21st century. Other interests are the numerical modelling of shelf, coastal and estuarine marine systems, and problems in applied marine science. In 1996 he was a joint recipient of the CSIRO Chairman's Medal for his work on the Port Phillip Bay Environmental Study.
Geomorphologist: Scott Smithers
Scott Smithers is senior lecturer at James Cook University, Townsville, Australia. His broad research interests are in coastal (reef, beaches, estuaries) and fluvial geomorphology, especially the Quaternary evolution of these environments and their palaeoenvironmental histories. Recent research includes reef and coral response to environmental change (especially sea-level and climate), environmental histories reconstructed from reef and coral evidence, the geomorphology and management of north Queensland coastal streams, morphodynamics of meso and macrotidal beaches and estuaries, and the deposition and environmental significance of boulder deposits on the islands of the Great Barrier Reef.
Anthropologist: Richard M. Moyle
Richard M. Moyle is Associate Professor of Ethnomusicology and Director of the Archive of Maori and Pacific Music at the University of Auckland, New Zealand. He has spent more than nine years in fieldwork in the Pacific and Aboriginal Australia, and is the author of fourteen books on the music of the region. He spent eighteen months on Takuu between 1994 and 2006 at the request of the Island's Chief and Council to provide an enduring record of their unique Polynesian culture for the benefit of both local and expatriate residents.
Pacific Island Intern and translator: Rosevita Tione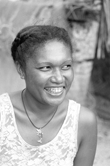 Rose Tione is a Takuu native who has lived on the island for the majority of her adult life. She is familiar with the perspectives of both older and younger people on Takuu, and is conversant with the native religion, the Christian faith that is increasing in popularity on the island, and the position of women. Rose is keen to make sure that the representation of Takuu and its language is accurate. From March 2008 the production team will sponsor Rose to stay in New Zealand for a period of two months. During this time she will help to complete the translations of Takuu interviews into English and help with the organization of our second shoot to the island. She will also get the opportunity to improve her English by attending an English language course at Auckland University of Technology.